Passion for Sustainability Program
Karisma Hotels & Resorts actively promotes conscious tourism at all its destinations. To do so, Karisma has created an integral program called Passion for Sustainability, which is applied from the corporate offices and all the way down to each department at the group's hotels. This program oversees that Karisma's operations are in line with Global Sustainable Tourism Criteria, local and national regulations and the certification agencies with whom it currently works.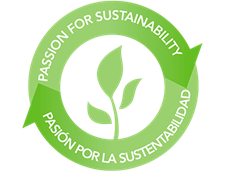 Sustainability Policy
"Our COMMITMENT and PASSION as a company leads us, day by day, to take social responsibility and build environment friendly culture among our clients, staff, providers and shareholders. Through innovative conservation practices, we strive to continually improve the management of our natural and cultural resources, thereby contributing to the sustainable development of our society."
You can read our full Sustainability Policy here.
Sustainable Management System
Since 2012, Karisma Hotels & Resorts have developed a sustainable management system, which groups different aspects of different issues such as wasted management, water, energy, flora, fauna, guest's information, etc. This system provides guidelines to implement measurements and actions that will be an integral part of the Passion for Sustainability Program, which will help achieve the goals of certifications. All Karisma properties implement the different components of the Passion for Sustainability Program, by integrating a Green Team with the colleagues and with the guide of one member of the Corporate Sustainability Team. The different components of the Passion for Sustainability Program focus on achieving the highest possible efficiency on hotel operations.
You can see the 2016 Sustainability results here.
Social Responsibility, Environmental and Health & Safety Certifications
Due to the implementation of the program Passion for Sustainability, Karisma Hotels & Resort's Hotels have been awarded with the EarthCheck Silver, Green Globe and Travelife Gold environmental certifications as well as Distintivo S, granted by the Tourism Secretary of the Mexican government and have been recognized as "Hotel amigo de la Tortuga" (Turtle Friendly Hotel), granted by the organization Flora, Fauna y Cultura de México A.C. Karisma's social responsibility philosophy has granted the "Empresa Socialmente Responsable" Award (Socially Responsible Company) and the Great Place to Work Certification. Our hotel, El Dorado Royale, is home of the only Rainforest Alliance Certified GreenHouse in the area, which produces approximately 14 tons/month of vegetables.


What can I do to be a responsible tourist?
Learn how to become a responsible tourist while enjoying your stay in Karisma Hotels & Resort's hotels. The Tourism Global Organization (UNWTO) has published the Responsible Traveler's Guide, apply these criteria to each travel you make and become an engine for responsible development.
Karisma Hotels in Mexico commit towards animal wellness.
Consistent with our sustainability philosophy at Karisma Hotels & Resorts, we are pleased to announce that we will team up with our providers to ensure that 100% of the eggs in all presentations, used in all of our Mexico hotels will be from cage-free farms by 2023. We will perform this by partnering with the organization Animal Equality, who is an international organization working with society, governments, and companies to end cruelty to farmed animals. This way, Karisma continues with its path of responsibility in every