The Wait Is Over
Get Out And Go
Get Out And Go
Mark your calendars, pack your bags
Members Appreciation Week is Back!
Rates from $153 USD pp/pn
Learn More
The Wait Is Over
Get Out And Go
Get Out And Go
We've got the cure for cabin fever
Our all-inclusive properties offer the full experience of the Margaritaville state of mind. Whether you want to spend your time relaxing in a beach hammock, indulging in island-inspired spa treatments, or celebrating 5 o'clock somewhere with a poolside cocktail, our resort puts a Caribbean twist on laid-back luxury.
Explore Margaritaville Island Reserve Resorts
Island Reserve Inclusive Experience
Laid-back luxury where everything you want is included
Island Reserve Inclusive ® offers exceptional service and top-quality dining and drinks with a Margaritaville flair and a few unexpected twists
Local flavors from Rita's Taco House and gourmet offerings from Frank & Lola's and The Beach House
Joe Merchant's Coffee & Provisions
Stock your perfect in-room bar and fridge with Joe Merchant's points
Tailor everything to your tastes with a large selection of snacks, drinks and mixer options
Pick up yourself or opt for delivery right to your room
Suite Escapes
First-of-its-kind in-room bar experience only available at Margaritaville Island Reserve Resorts
Upscale coastal design with elegant touches inspired by the lyrics and lifestyle of singer, songwriter and best-selling author, Jimmy Buffett
Gourmet surprises during daily "foodie" happy hours – served right to your spot by the sand
Explore Margaritaville Island Reserve Resorts
Punta Cana
Now chilling in the Dominican Republic
The Dominican Republic's most breathtaking destination has arrived at the internationally acclaimed Juanillo Beach. Welcome to Margaritaville Island Reserve Cap Cana, a tropical paradise that unlocks a world of five-star luxury. Explore a vast Gourmet Village that doubles as the resort's social heartbeat with multiple performance venues, restaurants, and bars.
On July 1 Karisma Hotels & Resorts will open the doors to its highly anticipated Margaritaville Island Reserve Riviera Cancun. Located on Mexico's stunning Riviera Maya coast, the all-inclusive oceanfront resort marks the official debut of Margaritaville's new laid-back luxury Island Reserve concept, and the first property in Mexico for the brand.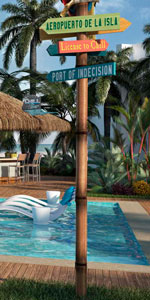 Award-Winning Hospitality Brands Partner to Open Margaritaville's First Inclusive Resorts in Premier Destinations across the Caribbean and Mexico
Reservations Now Live at Margaritaville's First Inclusive Resort Debuting in Mexico